Robert (Bob) Casier Obituary
Robert (Bob) Casier, a popular local professor of political science and a leading faculty figure in the early development of Santa Barbara City College (1955-1992) passed away at the age of 91.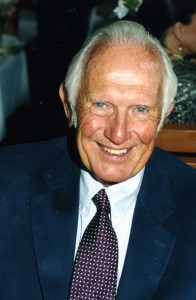 A native of Santa Barbara, Bob was born to Albert and Albertina Casier, immigrants from Belgium who were members of the Fellowship Society, a cooperative organization located on the Mesa in the 1920s. Bob and his sister Alberta had a great childhood growing up in a largely agricultural area interspersed with barns and oil derricks. Hendry's Beach was not far away.
Casier was student body president at Santa Barbara High School (SBHS) where he undertook an extensive revision of the school constitution for which SBHS received national recognition. Athletically, he was on the Dons basketball and track teams. Scholastically, he was on the honor roll numerous times. For his leadership, scholarship and character, Bob shared the outstanding male graduate from SBHS in 1944.
At UCSB in 1947, Casier was the leader in the establishment of one of the first inter-racial social fraternities in the United States. He was President of the UCSB Honor Societies in Political Science and Education, and played for the Gaucho basketball and volleyball teams. The squad lost to Stanford in what was billed as the first West Coast intercollegiate volleyball championship. He graduated with a B.A. in Political Science and was selected for inclusion in Who's Who Among American Colleges & Universities, 1949.
It was Bob's good fortune to "pick up" a striking young co-ed, Shirley Lerner, at the UCSB Riviera campus bus stop early in 1948. Thus began a lifelong love affair. While Shirley completed her senior year at UCSB, they were married and Bob began graduate school at UC Berkeley. They lived in the Bay Area for several years where they both taught school and Bob completed his M.A. in Political Science. They enjoyed the delights of San Francisco where their first son Craig was born. Bob & Shirley returned to Santa Barbara in 1953 where sons Rodger and Bryan were born.
After two years at SBHS as a teacher/basketball coach, Casier joined a small band of educators at the Riviera campus that was to become Santa Barbara City College. There he helped forge an institution with high academic standards. As founder of the Political Science Department and Chairman of the Social Science Division, Bob played an important role in recruiting an outstanding faculty and together they developed a wide range of course offerings, extraordinary for a community college. For example, Professor Casier for many years taught a seminar on World Revolutions as part of the honors program, often in conjunction with a colleague from the history department.
Casier was also active in developing institutions of self-government, including the Academic Senate and the Instructors' Association where he served as President. The faculty twice called upon him to be lead negotiator in successful efforts to improve salaries and working conditions. Professor Casier also served a year as Academic Dean before returning to his calling in the classroom. Shortly thereafter, he took a leave of absence to complete his PhD in Political Science at UCSB.
His doctoral dissertation on the senate filibuster was chosen as the best work of scholarship by the Western Political Science Association. Dr Casier enjoyed teaching political science courses at UCSB from 1959 to 1987.
In 1961, during a period of alleged communist infiltration of higher education, when academic freedom was threatened, Professor Casier received a Santa Barbara area teaching award for excellence recognizing the "courageous presentation of his subject whereby students are inspired to a high level of thought."
Later, in 1979, Dr Casier was chosen by his peers to receive SBCC's highest honor, as the first annual Faculty Lecture for outstanding teaching, and service to the college and community. His lecture topic was Changing Patterns in American Politics.
Along with others, in 1989, Professor Casier received national recognition for teaching excellence from the University of Texas. The SBCC's President's Letter in support of his nomination recognized him as "a master teacher…a popular faculty member…although known to be rigorous and challenging." A student in support of the nomination stated that, "Dr Casier has taught me to apply ideas in a thought-provoking and self-examining way…and is honest, stimulating, scholarly, open-minded…and brings nobility to teaching."
Upon his retirement in 1992, the California Legislature passed a resolution commending "Dr Robert Casier for his dedication, spirit, humanity, and professionalism." On more than 100 occasions, he represented the college as a speaker, moderator, and a panel member on a score of topics of national & international politics. This included the introduction of US Presidential candidates in forums at SBCC and UCSB. In the 1960s and 70s, he was elected to the Santa Barbara County Democratic Central Committee and also served on the Board of Directors of several local and regional organizations including the Santa Barbara Chapter of the United Nations and the Santa Barbara Mental Health Association (currently known as the Mental Wellness Center). Since retiring, he has occasionally given lectures to a variety of community groups. He also helped organize the long-standing IHOP "Seminar Group" in Santa Barbara and similar discussion groups at his later residence at Vista del Monte Retirement Community.
Widespread travel was both a family and professional undertaking. Trips to Europe always involved contact with Bob's family in Belgium and France. They enjoyed trips together including twice attending the tennis championships at Roland-Garros in Paris. Other foreign business included a sojourn organized by the American Political Science Association to Eastern Europe and the Soviet Union in 1969. There was also extensive travel in Asia, Latin America, Africa, and the Middle East, which included visits to national political institutions and conversations with government officials and academics.
Travel with children and grandchildren was an important family adventure, often in campers. In 1967, the family traversed the United States to see national historical sites and watch every major league team play baseball. In a year-long stay in Europe (1970-71) the youngest son Bryan, age 12, using roadmaps served as navigator to Istanbul and back to France — except for the period of martial law while we were in Turkey. The two oldest sons, Craig and Rodger, attended language academies in Belgium, France, and Spain. In retirement, the extended family including grandchildren Drew and Elizabeth, enjoyed taking recreational trips and a number of oceanic cruises.
Bob Casier had a lasting interest in sports as a participant, coach, and fan. He began college as a physical education major before switching to Political Science. Early in his career, he was the Director of Youth Sports Leagues for the Santa Barbara City Recreational Department and coached high school basketball for four years before teaching at the college level. Bob was an active tennis player and attended the tennis championships in five countries. In retirement, he started swimming laps at local clubs and in later years at his residence at Vista del Monte.
At local residences, Bob constructed athletic facilities and organized competitions enjoyed by his family, friends, and students. At his 40-year residence in Montecito, in addition to the inevitable basketball area, he developed courses for playing bocce ball, tennis, and horseshoes. During this time Bob developed a keen interest in landscape gardening and was ably assisted in area plantings and building decks and pathways by his sons who often referred to him as "Demo Dad."
Strong family ties and the importance of long-established friendships were central to Bob & Shirle's life. Birthdays and other family celebrations brought together the generations thus creating a large extended family. They shared delightful social gatherings with their many friends, with Shirley as the gracious hostess, gourmet cook, and participant in lively discussions. Shirle often quipped that, "Bob always came to my dinner parties and had a good time."
Bob remembered Shirle in the following stanza of a poem he wrote for her on Valentine's Day 2016, shortly before her passing:
And there's your persona that continues still
That golden smile, sharp wit and smarts too
All this embodied in a pretty and caring lady
Whose grace shines through.
Bob also had a close and loving relationship with his three sons. In earlier years, after returning home from work, the living room was the scene of a wrestling match in which they attempted to remove his shoes and socks. Later they engaged in more traditional sports on the "playgrounds" he had designed for them. On his 70th birthday, he asked them separately to describe one single trait of their father. Their responses were intelligent (Craig), kind (Rodger), and determined (Bryan).
Twenty years later on Bob's 90th birthday, friends remembered him as an athlete, intellectually curious, sharing ideas, a warm smile and person, a sense of humor, encouraging to others, and a person of integrity.
About the same time, the Santa Barbara City College Board of Trustees in 2016 passed a resolution expressing their appreciation for Professor Casier's work. They noted Bob's ability to motivate students and he was credited with creating an atmosphere in the classroom in which students could thrive and learn.
Bob was pre-deceased by his wife Shirle, son Rodger, two siblings Dolly and Roger, sister-in-law Virginia Andrews, and nephew Dr Bob Young. He is survived by his sons Craig (Kris) of Goleta, and Bryan (Karen) of Palm Desert, CA; grandchildren Drew & Elizabeth Casier; a sister Alberta Rossi of Los Altos Hills, CA and her children Randy & Ricky Rossi and Roberta Pyne; nephew Rick Andrews and niece Sue Haugen of Seattle, niece Carolyn Bose of Valley Center, CA; and cousins in Belgium & France.