Ray O'Connor Remembered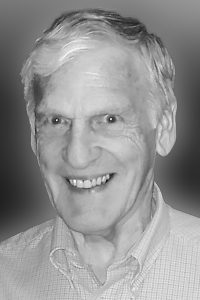 Raymond O'Connor
SBCC and Santa Barbara have lost one of the most accomplished and talented citizens to ever grace its environs. RAYMOND (Ray) F. O'CONNOR died at Serenity House on September 28, 2019, at the age of 92.
Ray joined the faculty of Santa Barbara City College in 1965 as a member of the Chemistry Department faculty. Prior to that he taught biology and microbiology at Orange Coast College in Costa Mesa, and chemistry and mathematics at the Thacher School in Ojai.
Ray's teaching career was preceded by research appointments at Merck Sharp and Dohme, the Massachusetts Institute of Technology, and the University of California at Berkeley. He graduated from Miami University, Oxford, Ohio, with a B.A. degree in microbiology, served three years as an officer in the U.S. Navy and then obtained an M.S. degree in bacteriology from the University of Michigan at Ann Arbor. He was a member of the MIT chapter of the Society of Sigma Xi, an organization whose members are selected for excellence in research.
Ray authored a chemistry text for the health sciences and general chemistry and biology laboratory manuals. Ray taught Introductory Chemistry, Fundamentals of General and Biochemistry for nurses and first and second semesters of general chemistry. To quote a typical student, Ray was a "fantastic chemistry teacher."
Ray served as president of the Academic Senate, chaired the Chemistry Department and the former Division of Physical Science and Engineering. He served several terms as a member of the Representative Council of the Academic Senate and as a member of the board of the Instructors' Association. In addition, he served on various other college and Academic Senate committees. He was a member of faculty salary and benefit negotiating committees and a strong advocate for faculty participation in the governance of SBCC.
Ray was selected by his peers as annual Faculty Lecturer for 1984-1985 and retired in 1986.
After retirement Ray taught chemistry at SBCC well into his 80's as an adjunct professor. He continued writing and publishing books on numerous topics for the general public including one on the dangers of electromagnetic radiation exposure.
Ray was a polymath. In his pre-SBCC years he acted in many plays. In his spare time and in retirement Ray was also a creative and skilled builder of homes, such as a magnificent one on Romero Canyon Road. He helped many friends with home improvement projects and few of them can walk through their houses or yards without some memento of Ray's creative building skills. Visiting Ray's home was like a journey into his mind: organized, warm and artistic.
Friends and faculty members remember him as pleasant, dignified and an unforgettably knowledgeable conversationalist.
Ray was a force of nature, and those who knew him were in awe of his skills and his accomplishments. He was a gentleman and a true renaissance man.