Meet Imani Azam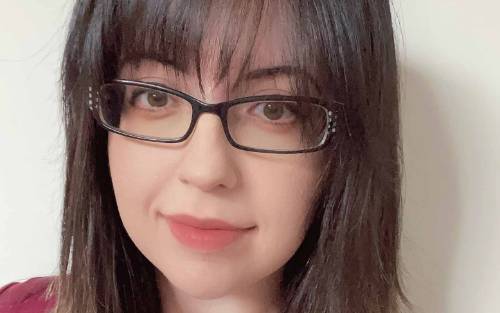 November 19, 2023
Our New Library Technician
Welcome to our new Library Technician!
Imani Azam is an SBCC alumna who worked in the library as a student worker and is now part of our full-time library staff.
What are some of your favorite books?
Let me just check my Goodreads bookshelf of favorites that has over 300 books. Here are a few: The Prison Healer trilogy by Lynette Noni, The Last Namsara by Kristen Ciccarelli, Divine Rivals by Rebecca Ross, and to throw a classic in there, Jane Austen's Pride and Prejudice.


What are you currently reading?
Currently I'm reading The Time In Between by Maria Duenas. I had seen the Spain drama series with subtitles years back and adored it. The setting, the costume design, the story, they did it so well. I don't know why I never read the book but maybe it just didn't cross my mind. However, I saw the book in a pile of books that had been on display from the Hispanic Heritage Month here at SBCC and I gasped and had to grab it because I remembered I enjoyed the drama. Rereading this historical fiction novel refreshed the whole story for me because it had been so long since I'd seen it. Now I want to come back full circle and once I'm done with the book, I think I'll rewatch the drama haha. (For once, I might say the drama was better done than the book
). I only say that because there's a lot of written details that honestly worked better seeing it visually on screen!

Speaking of on screen stuff, what have you been watching recently?
Okay I'm pretty Disney-obsessed but Disney's Elemental. Um hello?? Pulled at all my heart strings. It was just so cute and visually fun and having Lauv sing the main track was perfection on Disney's part. Also this is a little random, but I've been on a Judge Judy revival kick. That lady is a queen. I love how she deals with petty criminals. It seems like she's mean, but really I think she's just seen a lot and her patience ran out years ago and I can't say that I blame her since so many people lie to her face. I'm sure it's frustrating so I love watching her work.

Anything else you'd like to share?
I'd like to share some of my favorite quotes I've read from various books and authors over the years that whoever reads this might appreciate:
"There is no shame in not knowing something. The shame is in not being willing to learn." -Alison Croggon, The Naming
"One doesn't need magic if one knows enough stories."-Heather Fawcett, Emily Wilde's Encyclopaedia of Faeries
"Nobody is ever too old to dream. And dreams never grow old." -L.M. Montgomery, Anne of Windy Poplars
"But for my own part, if a book is well written, I always find it too short." -Jane Austen
"A word after a word after a word is power." -Margaret Atwood