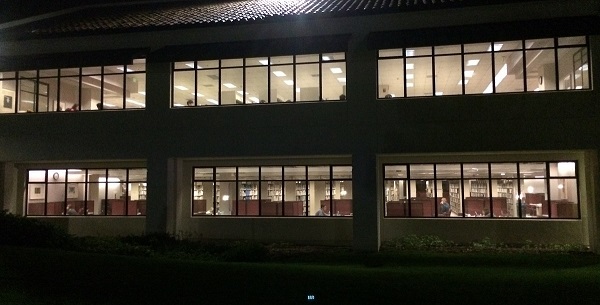 Library Hours and Maps
Library services are currenlty offered ONLINE:
Please Note: The building is closed. For curbside pickup and return services, see below.
Spring 2021 (Jan 11 - May 7):
Mon-Thurs 8:00am - 8:00pm
Friday 8:00am-4:00pm
Sunday 12:00pm-8:00pm
Virtual services unavailable May 8 - May 16. For special curbside pickup and return hours, see below.
Summer I session (May 17 - June 26):
Mon 9:00am - 3:00pm
Tues-Weds 9:00 - 7:00pm
Thurs 9:00am - 3:00pm
Holiday closures - no services available:
President's Day Weekend -Friday, February 12 through Monday, February 15
Spring Break - Saturday, March 20 through Sunday, March 28
Memorial Day - Monday, May 31
Fourth of July - Monday, July 5
Curbside Pickup or Return for Books, Chromebooks, and Hotspots
For pickup or return, come to the BACK of the library. Please consult this campus map.
Spring semester (Jan 11 - May 8)
Monday - Thursday 10am - 2pm and 5pm - 7pm
Sunday 1pm - 4pm
Extended spring semester hours for returns of devices and books
Friday, May 7 and Saturday, May 8: 11am - 2pm
Thursday, May 13 and Friday, May 14: 11am - 2pm
Summer I hours
Monday 10am - 2pm
Tuesday - Wednesday 10am - 2pm and 5pm - 7pm
Thursday 10am - 2pm
Luria Library Maps
The library is located on the West Campus, just west of the footbridge.
Map of library location on campus
Map of location for curbside checkout (chromebooks, etc.)
Maps of Luria Library