April 23, 2019
Rome - A Feeling of Belonging
There's no greater feeling than the feeling of belonging. If you read my last blog you may remember that about five weeks ago, I was just arriving in Rome and still in a place of healthy discomfort. At the time I write this, I am seven weeks into the SBCC Rome Study Abroad Program and I no longer feel that way. I feel like I belong and truly, there is no greater feeling.
My classmates and I have transitioned into a state of familiarity where "I want to go home to Rome" or "I'm so glad we're back in Rome" are commonly shared phrases when we leave or return to our city. We now all have our favorite bar (coffee shop), grocery store and spot in the city. We have our friends and our routines. We've created friendships through our memories, and memories through our friendships. When we began to notice these patterns of comfort and belonging, we were all delighted to see what came next.
This was mostly thanks to the interactive activities and excursions hosted by the SBCC Study Abroad Program. Our time in gorgeous Venice and breathtaking Florence really brought us together as a group. I think collectively we could agree that the cooking class activities that we took part in were the most awesome experiences, especially in regards to bonding.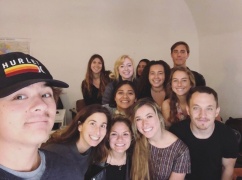 Prior to the Spring Break we had established customs of cooking together, having dance parties and days of exploration where we tried our best to apply what we learned in our fantastic Italian class to the outside world (thanks to Carlotta, the best teacher ever!). This all made our departure for Spring Break exciting because whether or not we were traveling together, we knew that we would be coming back to something special.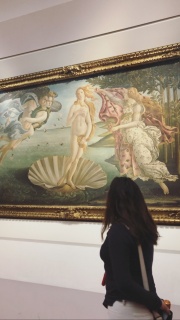 Since Europe is so small and traveling is so accessible, most of my peers embarked on a great adventure together. They visited Barcelona and Paris, two of the world's greatest cities! I was thrilled to hear and to picture all of the beautiful stories they shared with me like afternoons at the Playa de la Barceloneta and picnics at Paris' Trocadero. I am so proud of them, and so happy for them. Those are my friends, some of whom had never traveled on their own before and look at them now! Exposing themselves to new cultures, guiding one another through foreign maps, and accepting a challenge to fend in different languages.
As for me, I had a more relaxed vacation with my family. I lived a week of magic with my family. We began our travels in Madrid, where we saw friends and relatives. A few other students shared a similar experience. We were all so happy to reunite with parents, siblings and partners that we couldn't contain our joy. Missing your loved ones from back home is definitely a factor in our everyday lives here in Rome, so seeing them was a privilege and an honor.
I had the privilege of reuniting with an old friend of mine, Celia, who fueled me with the energy to begin a great vacation; energy that drove us to Seville, in southern Spain. I have been dancing Flamenco since I was three years old so this was my dream come true. Flamenco music, dance, and culture turned our worlds around. Walking through the neighborhood of Triana and hearing the Cathedral's bells as we ate tapas is an experience I wouldn't trade for anything.... except maybe for the beach, which is what we did right after.
Palm trees and the waves called our name so we said goodbye to Seville and hello to Malaga. This small port town is a little pot of gold. We adored the fantastic Arab food and the beautiful architecture. Southern Spain was occupied by the Middle East for 700 years, therefore, it has magnificent Eastern influences. We felt like we had left Spain and transported to a different continent. It was beyond amazing. Malaga was all about the soft ocean breeze and the quality time we shared. Our conversations, smiles and embraces, then moved along in a road trip to Granada.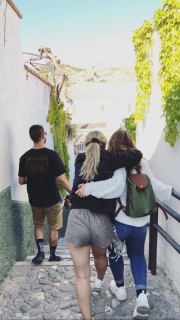 Wow, Granada! This highly influenced Eastern city is possibly the most underrated area I have ever seen. The hospitality was great and the food even better. In Granada, my mother focused our time on the historical aspects. She read to us each morning and night, thoroughly explaining what we were seeing through the anthropological past. Of course, the Alhambra was the best part. We participated in intellectual exploration within the structure of the site, as well as inside its museums.
Walks through the mountainside in Granada also lifted our souls. At the top of a hill we were lucky enough to run into a cultural gathering where locals were singing, playing, and dancing Flamenco. It was life changing. I recommend this wonderful city to all.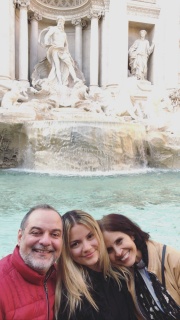 Finally, we headed to Barcelona. Barcelona gave us a weekend of intimacy. We saw our family, maternal and paternal, and I had the joy of celebrating one of my best friend's birthdays with her. Aitana, my friend, and her family made everything beyond special as per usual.
I came home to Rome with a light in my heart. I was satisfied from my beautiful trip and felt that I was returning home to something special. On the very last day of the Spring Break, some of my peers and I attended the "Rome vs Napoli" soccer game, where we confidently felt proud representing Rome as our own, especially while singing the Roma anthem alongside all of the other Romans. Not only did I find myself back in a place of comfort and belonging, but also, my dad arrived in Rome with a surprise visit! Let's just say, I'm a very happy girl with very happy friends in a very happy place, where I belong.
Missed the last blog? No problem, just click HERE to find out what Valeria and her class mates thought of arriving in the Eternal City.