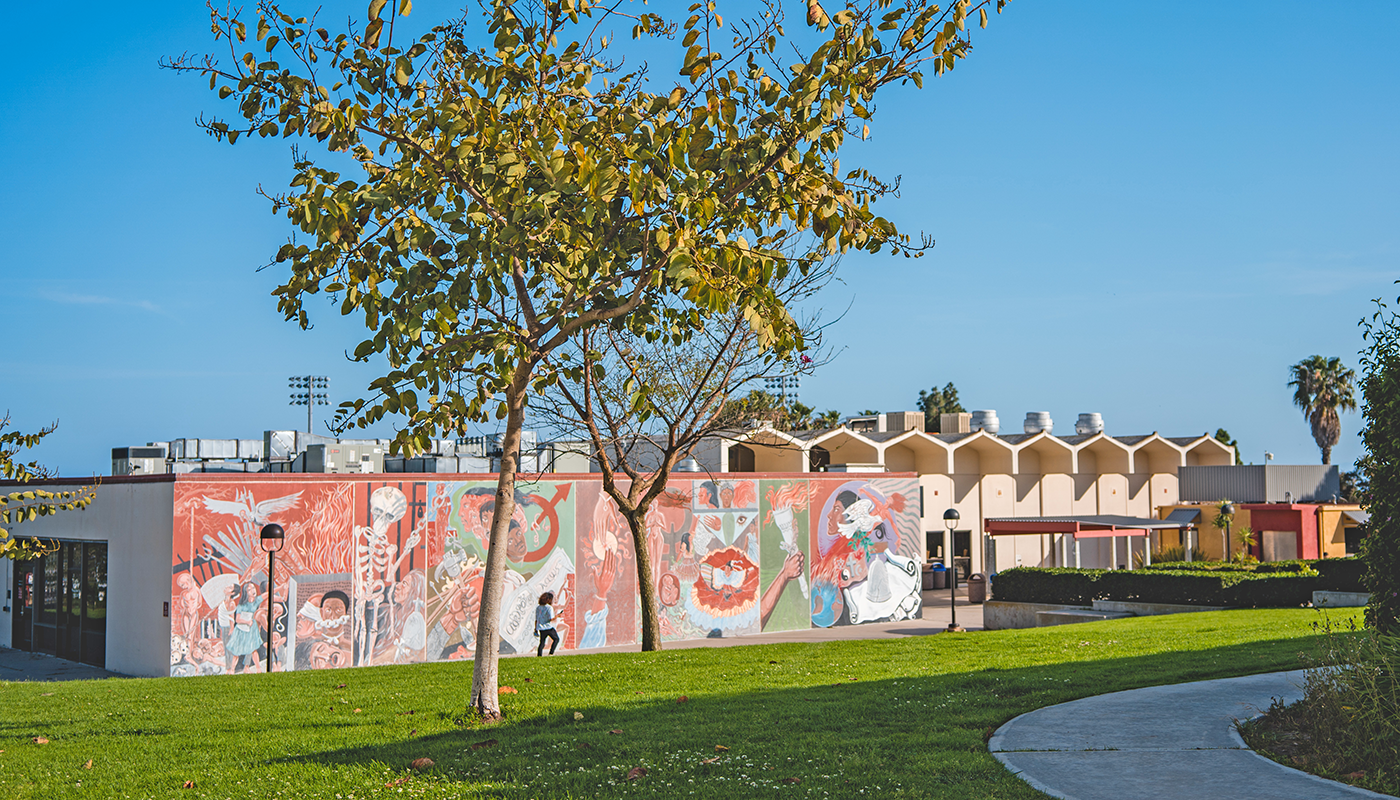 American Ethnic Studies
About Our Program
The United States, California and the Santa Barbara area have a great variety of peoples of different ethnic, racial and cultural backgrounds. All of these groups make up the American mosaic. The American Ethnic Studies Department examines the heritage, contributions and problems of these communities.
Current emphasis is placed on the Asian-American, African-American, Mexican-American, Native American and other communities of color. It is the department's belief that, through an examination of the heritage of others, one can appreciate one's own heritage.
Degrees in Ethnic Studies can be for social work, community agency work, teaching, etc. The department is committed to providing students the knowledge, personal attributes and skills to successfully live and work in a diverse world. As a result, students are prepared to operate competently, confidently and comfortably within a multicultural setting and with the tools to adapt to a rapidly changing multicultural environment.
The department also offers courses which fulfill the Multicultural/Gender Equity requirement and General Education requirements in the Social Sciences and Humanities.
Program Student Learning Outcomes
1. Analyze the role of the state in maintaining social inequality through institutions.2. Explain how race, class and gender roles create and sustain society within institutions.3. Explain how social forces influence the life experience of individuals.4. Explain the major theoretical perspectives in American Ethnic Studies.
Degrees Awarded
Black Studies — Associate in Arts
Chicano Studies — Associate in Arts
Ethnic Studies — Associate in Arts
Native American Studies — Associate in Arts
In these studies students will critically examines the interlocking forces of race, gender, class, sexuality, and other forms of social differentiation that shape the histories and experiences of marginalized groups. Career choices for all four of these degrees include the areas of teaching, prelaw, law, community services, cultural arts, museums and local, state and federal governmental agencies.
Department Offices
Division: Social Sciences Division
Dean: Dr. Priscilla Mora, (BC-217, ext. 2354)
Department Assistant: Sarianna Fry (BC 217, ext. 2354)
Faculty & Offices
Chair: Dr. Thomas Carrasco, Chair (IDC-361, ext. 4350)
Prof. Craig M. Cook, (IDC-357 ext. 4742)
Dina Castillo, (H-309, ext. 2408)
Magdalena Torres, (ECOC Building 1, Room 7, [805] 730-4003)
Tina Foss, (A217, ext. 2724)
Dr. Jamece Brown, (ext. 3960)
Dr. David Malvinni, (ECC 23 Room 1, ext. 2495)
Melinda Gandara mgandara@pipeline.sbcc.edu
Ambi Harsha aharsha@pipeline.sbcc.edu
John Eggler, Professor Emeritus
Dr. Dan Moreno, Professor Emeritus
Manuel Unzueta, Emeritus
What Can I Do with a Degree in American Ethnic Studies or Related Field (Asian American, Black, Chicano/a, Native American Studies)?
When choosing a major, you should think about your interests, passion and strengths. Many students declare an Ethnic Studies major because they care about social justice, want to be able to talk knowledgeably about the experiences, contributions and histories of communities of color, and wish to learn how to work effectively for racial, gender, economic and environmental justice.
You should also think about how your degree will prepare you for life after SBCC. In a liberal arts context, most majors do not translate directly into a specific career path. Rather they impart marketable skills that are important in a range of career paths and graduate programs. An Ethnic Studies degree will equip you with the following transferable skills: strong written and oral communication skills, critical thinking and analysis, knowledge about human behavior and institutions, cultural competency, ability to work effectively with diverse populations, capacity to analyze racial impacts of law and public policy, excellent research skills, team-building and group-centered leadership skills.
Students who graduate with a degree in Ethnic Studies often obtain employment in the fields of city and urban planning, communications, community arts, community development, education policy, environmental justice, film, media and artistic performance, human resources, immigrant rights advocacy, K-12 and higher education, journalism, legal advocacy, marketing, museum curating, non-profit management, public health, policy analysis, union organizing and youth work. In addition, a degree in Ethnic Studies provides excellent preparation for a graduate professional degree in business and non-profit administration, teacher education, law, medicine, public health and other health professions, public policy and social work.
How Does Ethnic Studies Relate to other Fields of Study?
As a major spanning the social sciences and humanities, Ethnic Studies prepares students for graduate study in a range of disciplines.
There are a number of minors that are excellent complements for a major in Ethnic Studies. Sociology, family studies, political science, history, communications, women studies, and anthropology are some of the more popular minors chosen by our majors. A combination of any of these fields with Ethnic Studies provides strong preparation for graduate or professional programs in Law, Sociology, Criminal Justice, Ethnic Studies, Education, and Cultural Studies. Students in other colleges, notably Business, Agriculture, Home Economics and Education are increasingly finding the field of Ethnic Studies an exciting complement to their primary concentration and declaring minors or second majors in Ethnic Studies or related fields.
2014 Outstanding Student Awards recipients
Alex Cala (Black Studies), Aysha Reyes (Asian Studies), Maria (Chican@ Studies) and Jacqueline Olympius (Ethnic Studies)
Ethnic Studies Club
In order to promote a more unified society of peoples living together in harmony and with appreciation and acceptance of the people's cultures, we unite to bridge the gaps that exist in our neighborhoods, our schools, our cities, our states and our countries. We are hereby committed to practicing and advocating cultural, ethnical, racial and sexual equality and justice by supporting all efforts, programs and means by which the theme of harmony may be promoted with the goal of living peacefully side-by-side with all peoples of our world.
Students in the Club help organize a variety of activities that showcase and celebrate the contributions of people of color, including Latina/o Heritage Month; Native American Heritage Month; Black History Month; in addition to many other events to bring awareness to the students, college and community we serve. It is the Club's belief that, through an examination of the heritage and contributions of the heritage of others, one can appreciate one's own heritage.
For more information please email Craig M. Cook, Advisor, Ethnic Studies Club cmcook2@pipeline.sbcc.edu
Find us on Facebook
The National Association for Ethnic Studies was founded in 1972. It provides an interdisciplinary forum for scholars and activists concerned with the national and international dimensions of ethnicity.
The Association welcomes scholars and teachers at all educational levels, students, libraries, civic and governmental organizations, and all persons interested in ethnicity, ethnic groups, intergroup relations, and the cultural life of ethnic minorities.
As a non-profit corporation, NAES provides a vehicle for interested members and donors to promote responsible scholarship and advocacy in the diverse fields of enquiry which constitute ethnic studies.