SBCC Summer Bridge programs offer local teens a jumpstart to college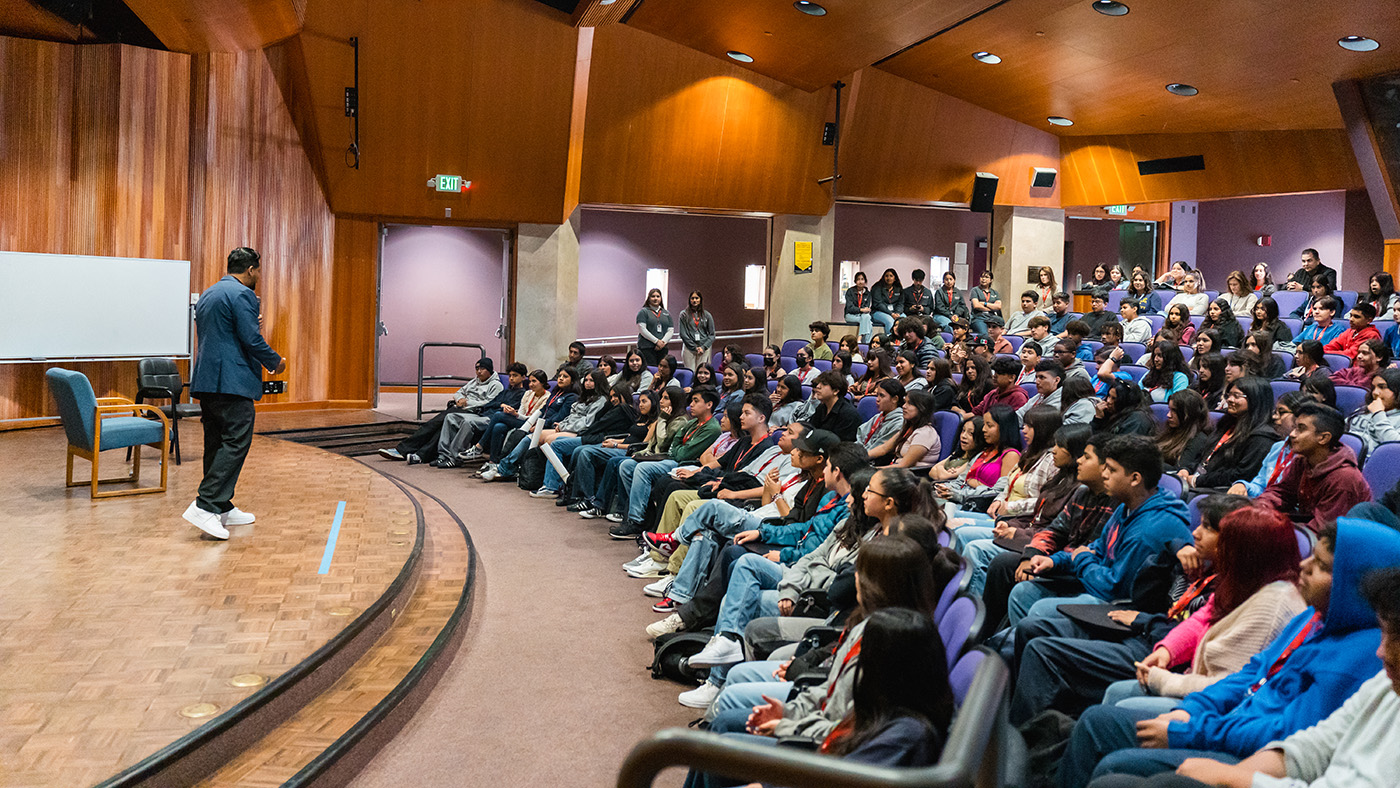 July 27, 2023
SBCC Summer Bridge programs offer local teens a jumpstart to college
SANTA BARBARA, Calif. (July 21, 2023) – This summer two of Santa Barbara City College's innovative programs welcomed local students to experience college-level coursework and gain confidence and motivation to seek higher education in their lives.
The PEAC program is a Santa Barbara Unified School District (SBUSD) initiative that exists to help close the achievement gap and change the trajectory of low-income, first generation college students, while also providing a system of academic and social-emotional support to guarantee students are prepared to enter a college or university. In partnership with SBCC's Dual Enrollment program and supported by the Foundation for SBCC, students experienced a great opportunity to attend SBCC for a week … earning one unit of college credit even before they enter high school. Students from Goleta Valley, La Cumbre, Santa Barbara and La Colina Junior High schools took a college course in time management along with guided introductions to the Basic Needs Center, Financial Aid, Library, computer labs, EOPS, Center for Equity and Social Justice, Student Health Services, Career Center, Guided Pathways, Automotive, School of Justice Studies and the Cafeteria.
A highlight of the week was a moving presentation by author and MacArthur Foundation Professor of Sociology at UCSB Dr. Victor Rios, who distributed and personally signed copies of his book "Street Life" for student attendees.
"Research shows that introducing at-promise students to the college experience at an early age promotes a college-going mindset," says Rios. "Students who come from backgrounds of adversity who encounter mentors and educators that guide them in the college process are more likely to build a desire to achieve higher education.
"I was impressed by my visit to SBCC to observe the program. First generation students were thriving and planning for a future in the academy. Special thank you to Melissa Ortiz for joining my presentation and Angelica Contreras for facilitating the program."
SBCC's Acting Director of Admissions and Records and Dual Enrollment, Angelica Contreras, adds, "Dual enrollment provides students with opportunities and resources to level the playing field and increase their chances of accessing and successfully completing higher education. Working with our PEAC partners helps us do 'in-reach' with our Black and Latino population. The sooner we can introduce students to college, the more likely we can ensure a smooth transition to higher education."
Summer Bridge/PEAC photos here (photo credit: SBCC photo)
Running Start is a six-week Summer Bridge program, supported by the Foundation for SBCC, designed to give local high school graduates the opportunity to start their education at SBCC during the summer, giving them a "running start," in college. Students get paid weekly to
participate in college courses and SBCC program introductions, as well as attend field trips every Friday (Universal Studios, the Museum of Tolerance and an L.A. Dodger's game among them). Running Start gives these students the chance to build their support system through EOPS and other departments on campus before the Fall semester begins. A total of 33 high school students have attended the Running Start program this summer.
Many, if not all, of the Running Start students come from financially disadvantaged families, are from historically marginalized communities, and first generation college students. Running Start Coordinator Alisha Sanchez said, "It is very important to expose these students to SBCC early on because many of them feel as if they do not belong in college or have a chance with higher education. So by joining the Running Start Program they get the chance to experience their first semester in college with a support system and guidance throughout the journey."