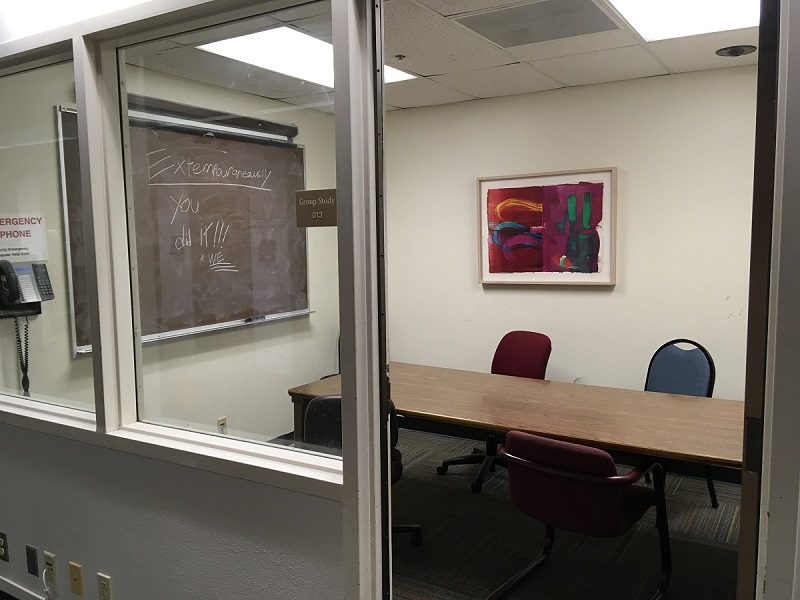 Group Study Rooms
The Luria Library offers study rooms on the lower level for groups of two to eight people.* All rooms have chalkboards or whiteboards. You can reserve them up to seven days in advance, following the instructions below.
The Library classroom, room L146, is located on the main floor of the library. Students can reserve the classroom during the final two weeks of the semester. The space is for groups of nine or more students at a time, and can be reserved for up to one hour at a time.
To book a group study room:
Click the appropriate link above. You will then see a calendar of room availability.
Select the day you want to use a study room. The display will show the available slots for that day in green. The unavailable slots are blue.
Click on an available slot to make a booking. You may select four slots per day, up to two hours total.
Click Continue.
When prompted, enter your full name and Pipeline email.
Click "Submit My Booking" to complete the process. You will be sent a confirmation email.
To cancel your room reservation:
Open the confirmation email forwarded to your Pipeline email.
Click on the link to cancel your booking.
You will be asked to confirm that you want to cancel your booking. Click Yes to cancel your booking.
*An individual student with a disability that has an approved assistive technology accommodation from Disability Services and Programs for Students (DSPS), and who requires a private setting, may reserve a room.