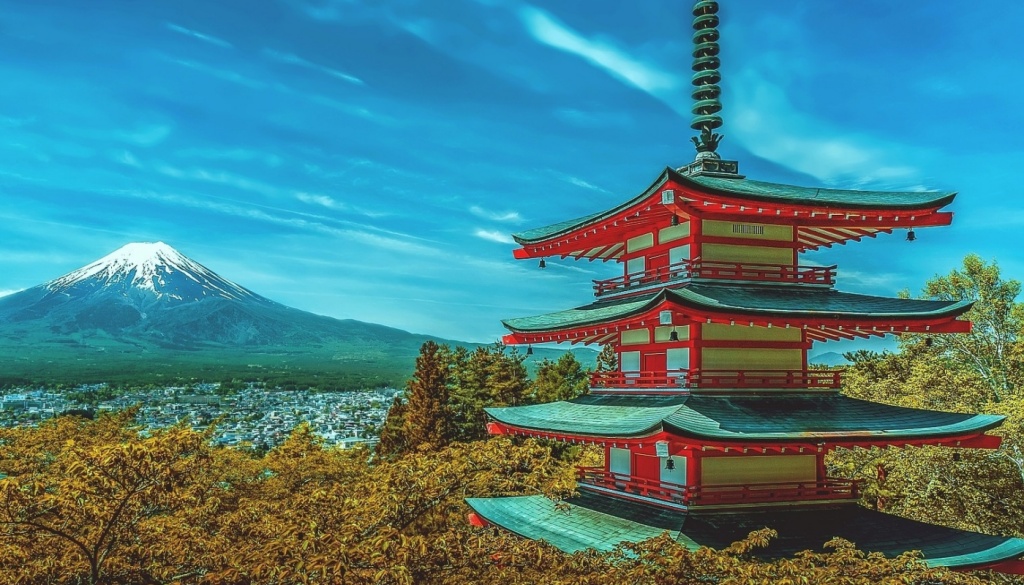 Communication, Film Studies in Tokyo, Japan
Summer 2023
The summer 2023 program to Japan will allow students to learn the concepts and principles of Interpersonal Communication as they experience the "old and new" and "urban and rural" Japan by visiting key architectural and cultural sites in the Tokyo area. Students will gain an appreciation of the historical, cultural, and linguistic diversity of the country, and will learn how Japanese people view their society and identity. In addition, students will understand the significance of Japan's relationship with the United States. This program will offer a valuable experience for students to gain an understanding of effective communication in a global society.

Additionally, students will study the work of classical and contemporary Japanese directors and how their work has advanced the international art of cinema. The Film Studies course will analyze landmark films by celebrated Japanese directors in terms of theme, structure and cinematic technique. Emphasis will be placed on the role of the "auteur" director. Japanese directorial contributions to specific genres such as sci-fi, martial arts, and horror will be explored.

Professor Mika Garard is thrilled to be co-directing her 2nd Japan study abroad program at SBCC. Professor Garard has been teaching several different Communication courses at Santa Barbara City College for more than 15 years, and has been teaching COMM121 Interpersonal Communication since 2011. She was born and raised in Sendai, Miyagi, and came to the United States as a Rotary Foundation Scholar to pursue her education. She holds a B.S. and M.S. in Speech Communication from Southern Illinois University at Carbondale. Before she started teaching at SBCC, she worked as a Japanese-English translator at a Japanese-French joint-venture company in the Midwest. Professor Garard's study abroad experience was life changing. She is looking forward to being a part of student's educational experience in Japan again.



Your can reach Professor Garard at garardm@sbcc.edu or in her office at BC_102E (please contact Professor Garard for office hours)

Professor Michael Stinson has been a full-time faculty member in the department of Film and Media Studies at SBCC for the past 20 years. During his tenure, he has directed seven international study programs and taught courses in screenwriting, film production, cinematography, directing, editing, and film history. Professor Stinson was awarded a Master of Fine Arts in Film and Television from U.C.L.A. and worked as a screenwriter for Warner Brothers, Paramount and Universal Studios. He was the Co-Director of the Student Screenwriting and Filmmaking Competition at the Santa Barbara International Film Festival in 2018 and is leading the 2022 Fall program to Paris, and Rome. Prior to film school, he lived and worked abroad for ten years as a photojournalist and was based in Japan for over six years.

You can reach Professor Stinson at mestinson@pipeline.sbcc.edu

To acquaint program participants with the cultural aspects of life in Japan, a series of mandatory as well as optional free or inexpensive activities is planned, which varies but often includes lectures on local customs and contemporary issues, sports events, walking tours, sight visits, and dinners. The below excursions are included in the program (subject to change):

Live in Tokyo

Zen meditation at a temple in Tokyo

Traditional tea ceremony

Additional cultural experiences

Plenty of time to explore on your own or with the group

You do not have to be currently enrolled at SBCC to apply for the program. However, you must meet the following requirements to participate in the program:

Must be in good academic and conduct standing

Must be at least 18 years old on the day of departure

Must successfully complete the application process

After acceptance to the program and official program go announcement:
- Must enroll at SBCC for the summer 2023 semester in order to participate in the program
- Must show proof of international health insurance. SBCC requires basic medical insurance, which covers illness and accidents abroad as well as the cost of returning students to the US if needed.
- We encourage the purchase of Trip Cancellation and Interruption insurance with the CANCEL FOR ANY REASON (CFAR) add-on. Policies are only available for a limited amount of time after making the program payment. Time limit depends on policy provider (check the Healthy & Safety Section for Insurance provider suggestions.) However, JTB, our service provider offers a group policy for 10 students or more. You can find more details on that policy HERE. You will need to get in touch with JTB after the program-go announcement to request the insurance. If the minimum of 10 students for this insurance is not met by March 16, 2023 or sooner, you will need to find your own insurance provider. Please note this insurance is only available for students 35 or younger.
- You must complete, sign, and return all legal documents for SBCC Study Abroad by the deadline. Failure to return completed and signed document by the deadline may cancel you from the program
- - Must attend the mandatory pre-departure meeting
- Should Japan require a Covid-19 vaccination in order to access public spaces, no exemptions can be granted for the vaccination mandate


There is no major or language requirement for this program.

Acceptance and participation in the program is not guaranteed until you have completed the interview with the program director/s and all required documents are received by the Study Abroad office.

The courses that are offered as part of the program are usually transferable to the University of California and California State University. Check with your counselor for possible exceptions. You must enroll in 6 units.

Classes offered on this program are:

COMM 151 Intercultural Communication (3 Units)
Skills Advisories: Eligibility for ENG 110 or ENG 110H.
Provides an introduction to communication between people from different cultures. Focuses on the application of theory and research to intercultural communication. The topics and activities are designed to develop communication skills that improve competence in intercultural situations.
SBCC General Education: SBCCGE Area B, SBCCGE Area E5; Transfer Information: CSUGE Area D3, IGETC Area 4C, CSU Transferable, UC Transferable; C-ID: COMM 150.

FS 111 Contemporary World Cinema (3 Units)
Study of international film history, theory and aesthetics, from 1960 to the present. The film medium is addressed as a technology, a business, an art form and as a medium that both reflects and creates popular culture.
SBCC General Education: SBCC GE Area C, SBCC GE Area E5; Transfer Information: CSU GE Area C2, IGETC Area 3B, CSU Transferable, UC Transferable

$ 2,825
* based on 20+
** does not include flight, tuition, books
*** includes $250 application fee


Program Fee Includes:
- 24/7 emergency service
- Required field trips and excursions (see 'Program Highlights")
- Shared rooms (3-5 students) at a Tokyo Youth Hostel
- Breakfast at the youth hostel
- SUICA card for local transportation
- Airport pick-up and drop off in Japan is included for the group flight participants and those who can meet up with the group. Please read more under "Travel."

Program Fee Does Not Include:
- Round-trip airfare (an optional group flight is available through Frosch Student Travel at an estimated $1,279) see "Travel"
- transportation to or from the airports in the USA
- Passport or visa fees if applicable
- Insurance fees (trip cancellation or health) - please note that JTB can offer a general trip cancelation group insurance ($81) with the recommended CFAR (Cancel for any reason) add on for $108 if at least 10 or more students confirm they want the insurance by the deadline March 1, 2023.
- Meals other than those listed
- SBCC tuition, fees, books (non-residents are required to pay out-of-state or out-of-country fees)
- Personal expenses
- Additional fieldtrips and excursions to those listed
- Please note the per night cost to quarantine at a hotel can range anywhere from 5,500 JPY to 11,000 JPY (possibly more) as of September 2022. The cost at the time of service, should it be deemed necessary, can exceed this amount.
- Anything not specified

$250 application fee due with application but no later than by March 1, 2023

$2,575 payment due April 12, 2023

JTB reserves the right to invoice students any additional costs such as damages at the accommodations etc. after the program concludes.

OPTIONAL:
A group flight will be offered through Frosch Student Travel and will have to be paid to them directly. Should we not meet the minimum of 10 students by March 5, 2023, the group flight will have to be canceled.

Trip Cancellation CFAR Group Insurance is available through JTB directly. Students need to let SBCC know by March 14, 2023 at the latest if they want the insurance through JTB or get their own, should they decide to purchase a policy, which is strongly recommended by SBCC. THE JTB Group insurance fee (to be paid directly to JTB) Insurance fees: general trip cancelation group insurance ($81) or with the recommended CFAR (Cancel for any reason) add on for $108. At least 10 or more students must confirm the purchase ofthe insurance by the deadline.

Round-Trip airfare is not included in the program price.

An optional group flight will be offered on a space-available basis through Frosch Student Travel. The group flight has a minimum requirement of 10 students in order to materialize. If 10 students are not registered for the group flight by March 16, 2023, the group flight will be canceled. Therefore, students wanting to get on the group flight must apply for the program no later than March 1, 2023.

Optional Airfare Package: Estimated cost (subject to change): $1,279

* including airport transfers & staff support, estimated taxes, fees & fuel fee
** Frosch Student Travel will reserve spaces at the above price for up to 20 students. Additional tickets may not be available at the same cost
***Only one piece of checked luggage is permitted on this flight to accommodate bus transfer to and from the airport in Japan

International flights between Los Angeles (LAX) to Tokyo (Tokyo Haneda) returning Tokyo (Tokyo Haneda) to Los Angeles (LAX)

Airport pick up and drop off in Tokyo is included for the group flight participants and those who will meet up with the group at the airport. Should the group flight be canceled, the airport pick up and drop off may also be canceled.

*Once tickets are issued they are non-refundable. Return dates can be changed after arrival in Tokyo.


Housing in a shared room with bunk beds & sofa beds (3- 5 students per room) at a Tokyo Youth Hostel.

Breakfast (buffet style) is included at the Youth Hostel. The hostel has a curfew from 11pm to 6am.

Single-room accommodations are available on a very limited basis and at an extra cost of $1,175.

Shared toilets, shower rooms, and public bath

*There will be no housekeeping service.

*Laundry: Washing machines are available to use. Fees apply.

Application Deadline: March 1, 2023


Scroll down for Online application link.

Please note: This program is currently half full due to previously deferred program participants. We recommend you apply as soon as possible.


Should you apply to the program after the program has been filled, you will be placed on a waiting list after successful completion of the application process. Your application fee will not be deposited unless you are accepted in the program and it can be returned until then.

Should you, at any time after being placed on the waiting list, no longer want to participate in the program, it is your responsibility to withdraw your application by contacting nwalther@pipeline.sbcc.edu. Students on the waiting list will replace any spots that become available in the order they have been placed on the list based on availability of rooms up to the final payment.

Required documents to be uploaded with your online application:
- Recent Photo
- Completed Student Conduct Release Form

Download and/or complete required documents BEFORE starting your online application:
- Student Conduct Release Form (Click to download)

ONLINE APPLICATION - THIS PROGRAM IS FULL WITH A WAITING LIST AND CURRENTLY DOES NOT ACCEPT ANY MORE APPLICATIONS (1/17/23) - Please review the program details for the summer program in Costa Rica to see if that may be of interest to you.

The top of this form must be completed by you. Please use your full name and identify the program clearly by entering the destination and term of the program. The bottom portion of the form must be completed by the appropriate school official handling student conduct. For SBCC, this school official is the Associate Dean, Dr. Christopher Johnson, located at Campus Center CC-222. You can submit the form to his assistant Candee Gyll at gyllc@sbcc.edu. Original signatures must be obtained. If you are not currently or have most recently been attending SBCC, you must submit the form to the school official responsible for student conduct at that school you most recently attended or are currently attending. If you are or have most recently been a High School student, your High School official must complete this form. The school official can also request a secure upload link by emailing nwalther@pipeline.sbcc.edu to submit the form.

All required documents must be uploaded with your online application via the secure server.

After review of your application, an interview with the program co-directors Professor Garard or Professor Stinson will be scheduled. Interviews may be held via Zoom.

Once you have officialy been accepted to the program, JTB, our service provider, will invoice you for the non-refundable first deposit/ application fee, which is due upon receipt of the invoice. Your spot is not confirmed in the program until this fee has been received by JTB. Please review the cancelation policy below.

Subsequent payments must be made directly to JTB. Failure to make any payment when due will automatically cancel you from the program. You may request to be re-instated to the program. If space is still available at the time of your request, the outstanding payment is due immediately. Re-instatement can not be guaranteed especially when a waiting list has been established.

For questions about the application or the application process please contact the Study abroad office.





Check your e-mail frequently to find any additional deadlines for event RSVP's, legal documents, group flight reservation and other program related information once you hve been accepted in the program.

Any individual cancellation must be made in writing to the SBCC Study Abroad office at nwalther@pipeline.sbcc.edu.

Full or Partial cancellation fees will be applied as follows (subject to change):

Non-refundable deposit of $250: if you cancel by March 15, 2023, 2023
60 Days prior to trip departure (April 12, 2023): 20% of the total tour cost at that time (except airfare)
45 Days prior to trip departure (April 27, 2023): 40% of the total tour cost at that time (except airfare)
30 Days prior to trip departure (May 12, 2023): 70% of the total tour cost at that time (except airfare)
Within 14 days prior to the trip departure: 100% of the total tour cost at that time (except airfare)

Please note that any student who is academically withdrawn by SBCC after their application has been processed by JTB is subject to the standard refund policy.

IMPORTANT UPDATE REGARDING COVID-19 & REQUIREMENTS

SBCC does not currently have a vaccine requirement, but all program participants are subject to the requirements of the host country and are responsible for staying informed about current Covid regulations and requirements.

Should the Japanese government require a current Covid-19 vaccination to enter public spaces, the mandate will be active on the program for all participants and an exemption can not be granted.

Given the ever-evolving nature of COVID-19 circumstances and our aim to ensure that all program participants have a unique, unforgettable, immersive, and safe time abroad, SBCC requires that all program participants (students, faculty leaders, spouses alike) be fully vaccinated prior to their departure to Japan.

In addition, if you are planning on traveling outside of Japan, please keep in mind that local regulations apply and that many freedoms to explore, learn, travel, and partake in the unique cultural experiences may apply solely to fully-vaccinated individuals (or those who have recently recovered from COVID-19). In many areas in the world non-vaccinated individuals are not able to travel or must present a negative test (sometimes a PCR test) for all activities in some countries. In most cases, these official tests are only valid for 24 hours, time consuming, and are at the individual's expense.

Some countries have stricter regulations, declaring that only vaccinated or recovered people can participate in indoor activities (for example, restaurant and museums visits), and a negative test will not be sufficient for entry.

All program participants deserve a transformational academic experience abroad and should be permitted equal access to all elements of their international program.

Non-vaccinated participants may be required to take a test every 24 hours (at your own coast and if available), have a higher risk of being quarantined, and may not be allowed to join activities that are part of the program and comprehensive study abroad experience they paid for.

A valid passport is required for all individuals participating in the Program. Based on travel restrictions, a visa may be required for travel to Japan. If a visa is required, it is the program participants' responsibility to determine visa requirements.

For information on travel visas, please visit: https://www.mofa.go.jp/j_info/visit/visa/index.html

For the updated travel restrictions based on Covid-19, please visit: https://jp.usembassy.gov/covid-19- information/

Information Meetings.

Information meetings are scheduled on the SBCC campus. Please refer to the event page for SBCC Study Abroad for dates, times and locations or contact the Study Abroad office at (805) 730-4294 or nwalther@pipeline.sbcc.edu

Find program related posts on Instagram at @sbccjapan2020 or check what students from the last Japan program experienced #sbccjapan2018

Program Orientation and Pre-departure Meeting


A mandatory pre-departure meeting will be conducted at SBCC in May 12, 2023, introducing the academic course work, addressing general aspects of study abroad and cross-cultural learning and providing practical information regarding preparation and travel. Please check with the Study Abroad Office for the exact date before you make your travel arrangements.

Santa Barbara City College
Study Abroad Office
Nicole Walther
International Education Center, Room 1
721 Cliff Drive
Santa Barbara, CA 93109
Phone: (805) 730-4294
nwalther@pipeline.sbcc.edu

Service Provider

JTB (Japan Travel Bureau)

Please contact SBCC Study Abroad office for any program related questions first. If you have additional questions about payment and cancelation deadlines or if you have any questions about your payments, please contact JTB at meetings-events@jtbusa.com or call them at 201-288-5592. Please note the name of your group (Santa Barbara City College or SBCC Trip to Japan) in the email title when contacting them via email, as they work with many different programs and colleges.

Useful Websites:

U.S. Embassy and Consulates in Japan

Japan National Tourism Organization (JNTO)

10 Japanese Customs You Should Know before You Visit Japan

Difference between Temples and Shrines

Points of Interest in Tokyo:

National Museum of Western Art

State Guest House Akasaka Palace (Geihin kan)

Ghibli Museum (Need advance reservations to enter)

Sanrio Puroland (Sanrio Amusement Park)

Kimono/Yukata (Kimono for summer) Experience

Points of Interest outside of Tokyo:

Tokyo Disney Resort - Disneyland and Disney Sea (In Chiba Prefecture, not in Tokyo)

Kamakura (In Kanagawa Prefecture, not in Tokyo.)

Nikko - UNESCO World Heritage Site (In Tochigi Prefecture, not in Tokyo.)

Universal Studios Japan (In Osaka Prefecture, not in Tokyo.)

Climbing Mt. Fuji (In Shizuoka Prefecture, not in Tokyo)

PLEASE NOTE:

The climbing season starts from July 1st. Climbing Mt. Fuji is

NOT

casual hiking. It is intense, if you want to climb to the summit to see the sunrise. If you are looking for something less intense and do not want to climb to the summit, there are local buses and tour buses that will take you to the 5th station of the mountain, and you can hike around there.

Please email or call Professor Mika Garard (mugarard@pipeline.sbcc.edu ) with questions about the information meetings.

This Program is full and will not hold any additional information sessions in the spring 2023 semester.
Any information on this site is subject to change without notice.