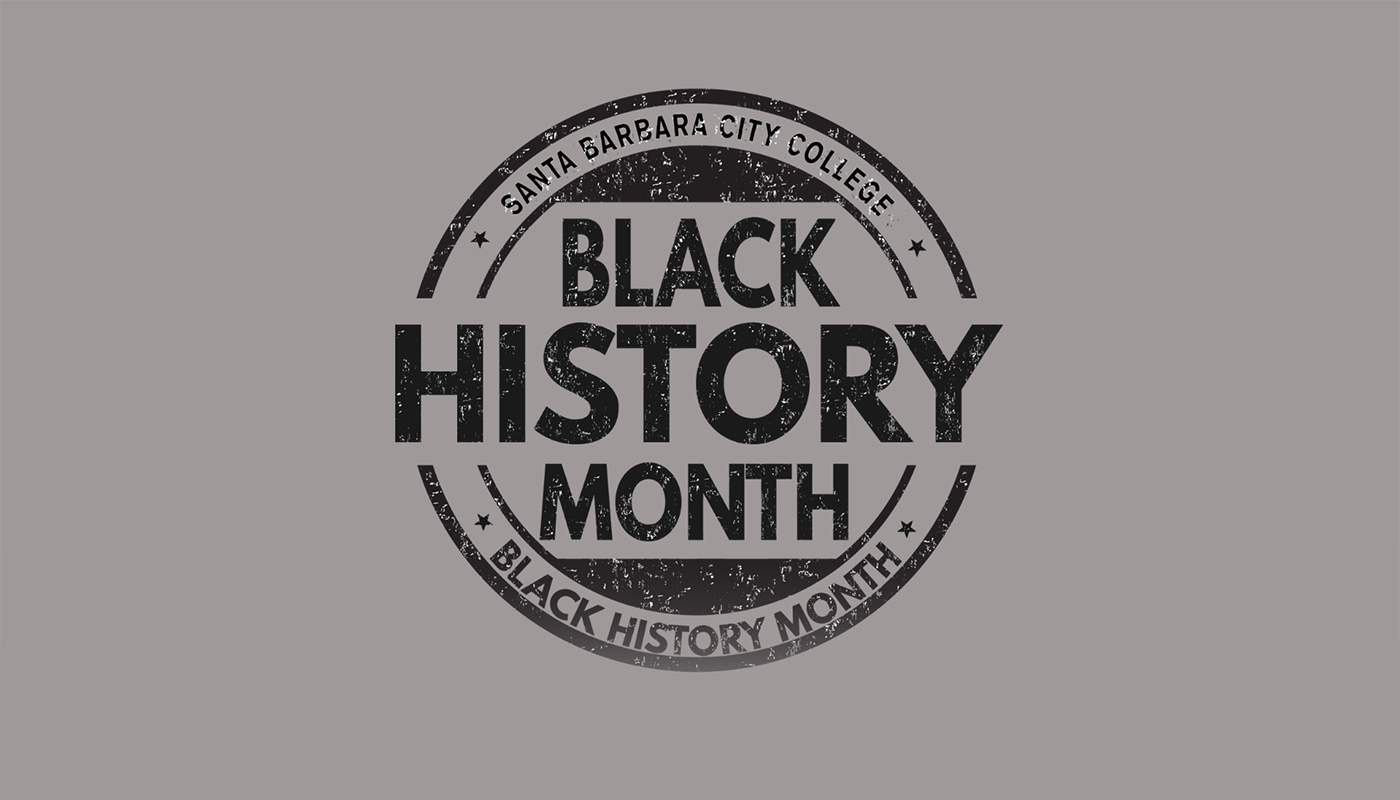 Black History Month
Happenings on campus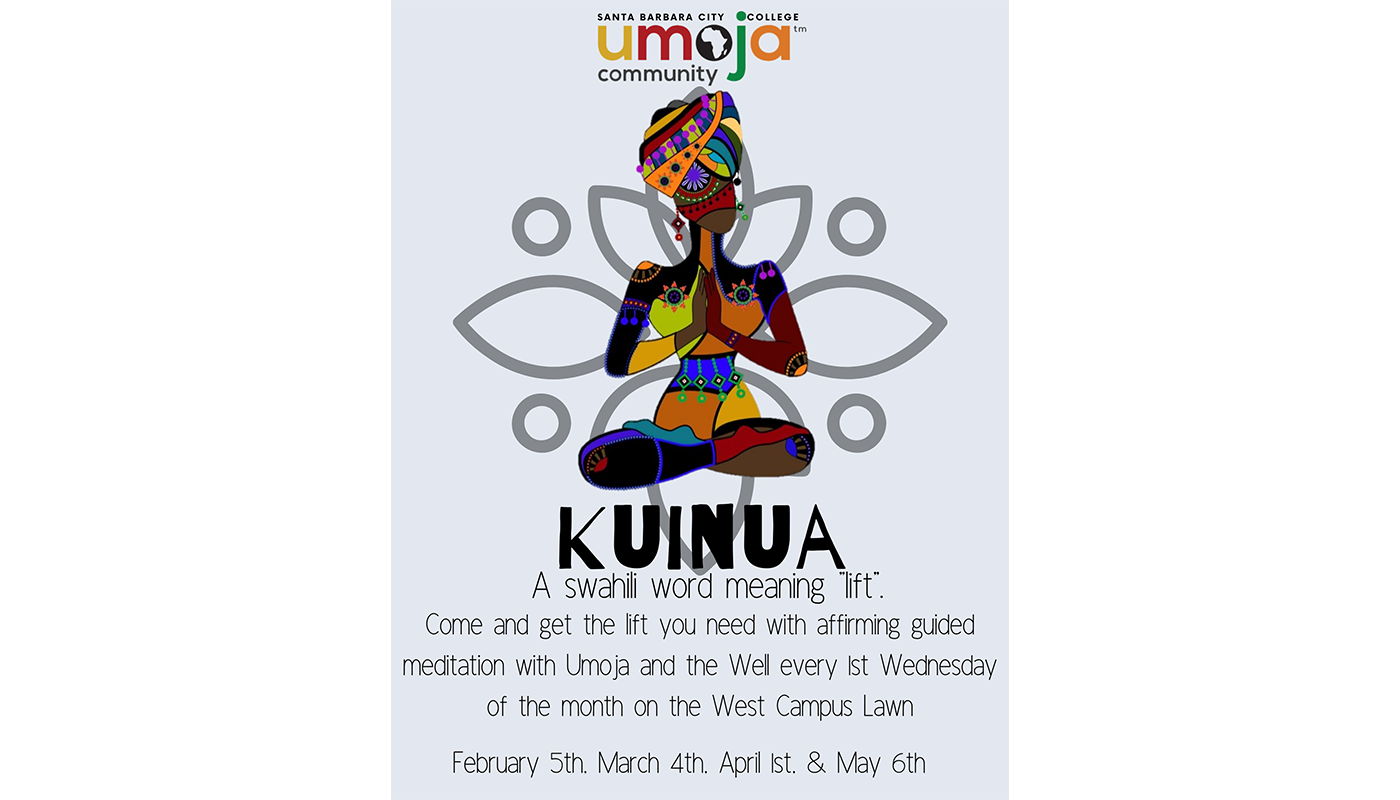 Kuinua: Swahili word meaning "lift." Meditation at 11 a.m. every 1st Wednesday of the month on West Campus Lawn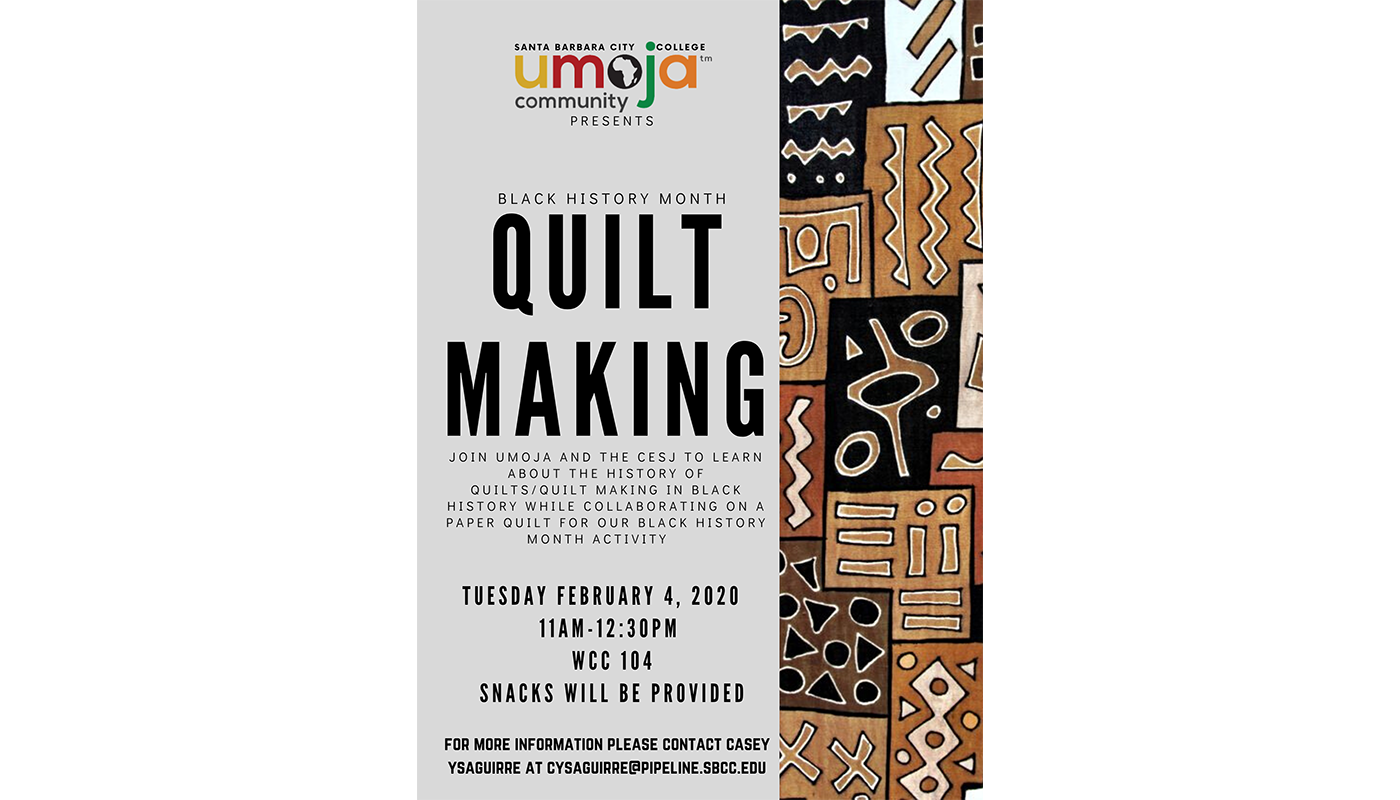 Learn about the history of quilts and quilt making in Black History, Feb. 4, 11 a.m.-12:30 p.m., WCC 104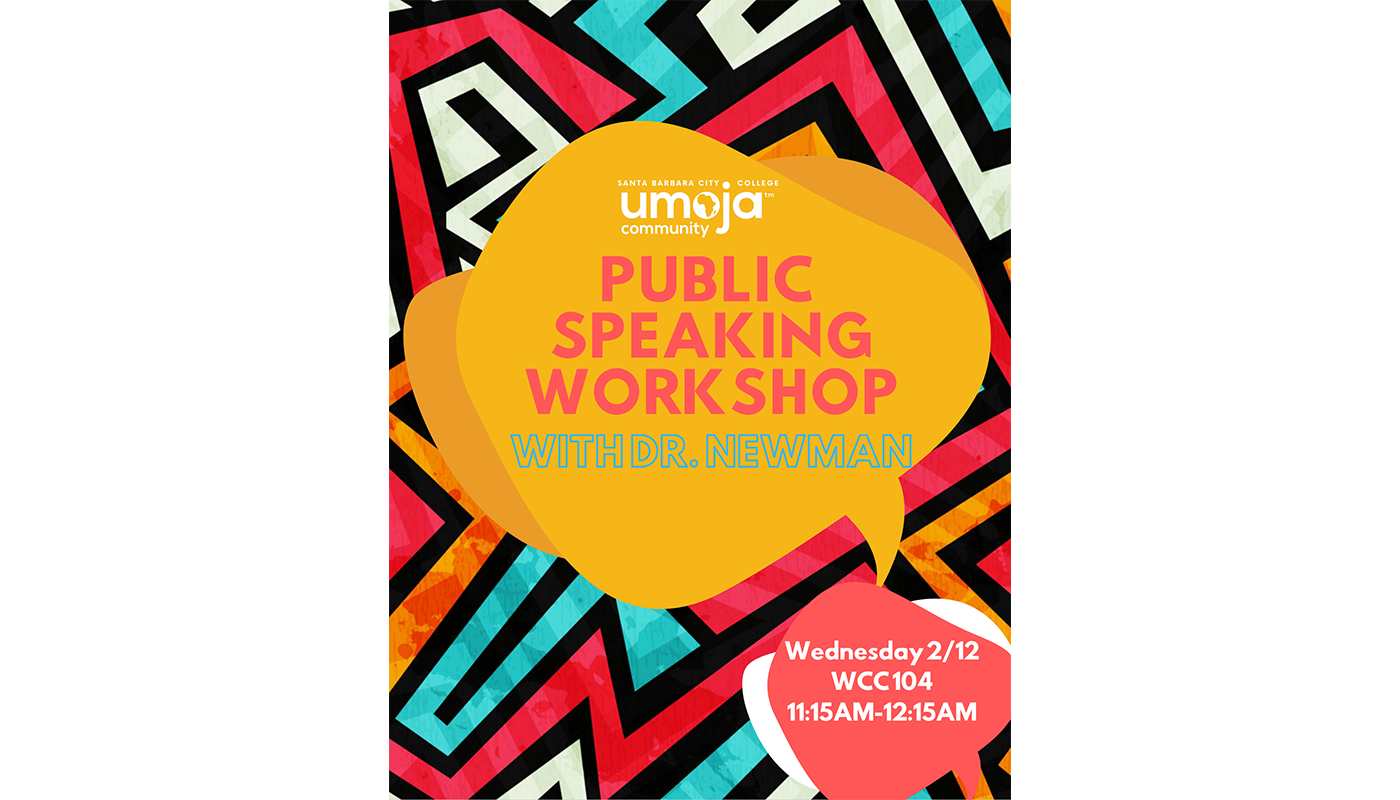 Public Speaking workshop with Dr. Newman, Wed. Feb 12, 11:15 a.m.-12:15 p.m.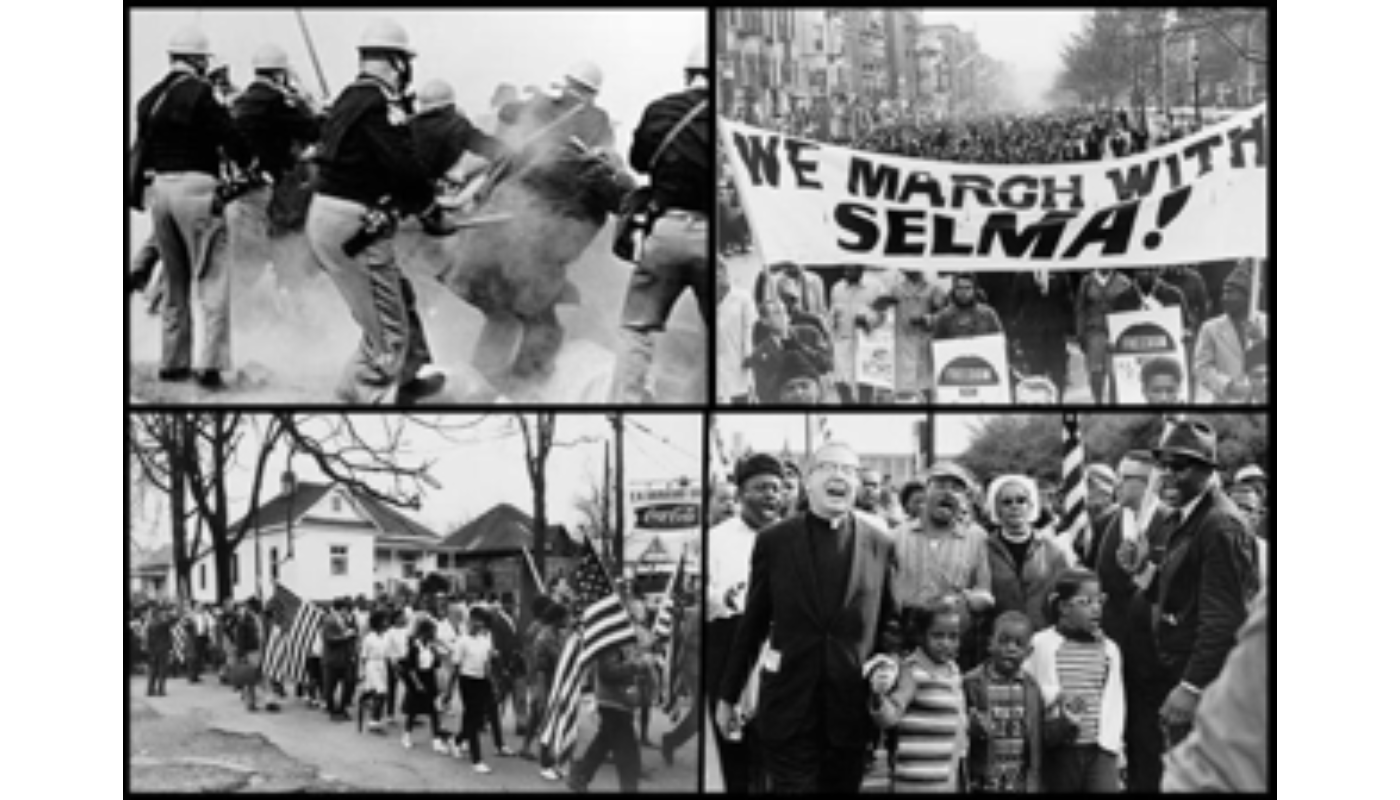 Special Lecture and Video on 55th Anniversary of the Selma to Montgomery Marches, Wednesday, Feb. 12. More info here. . .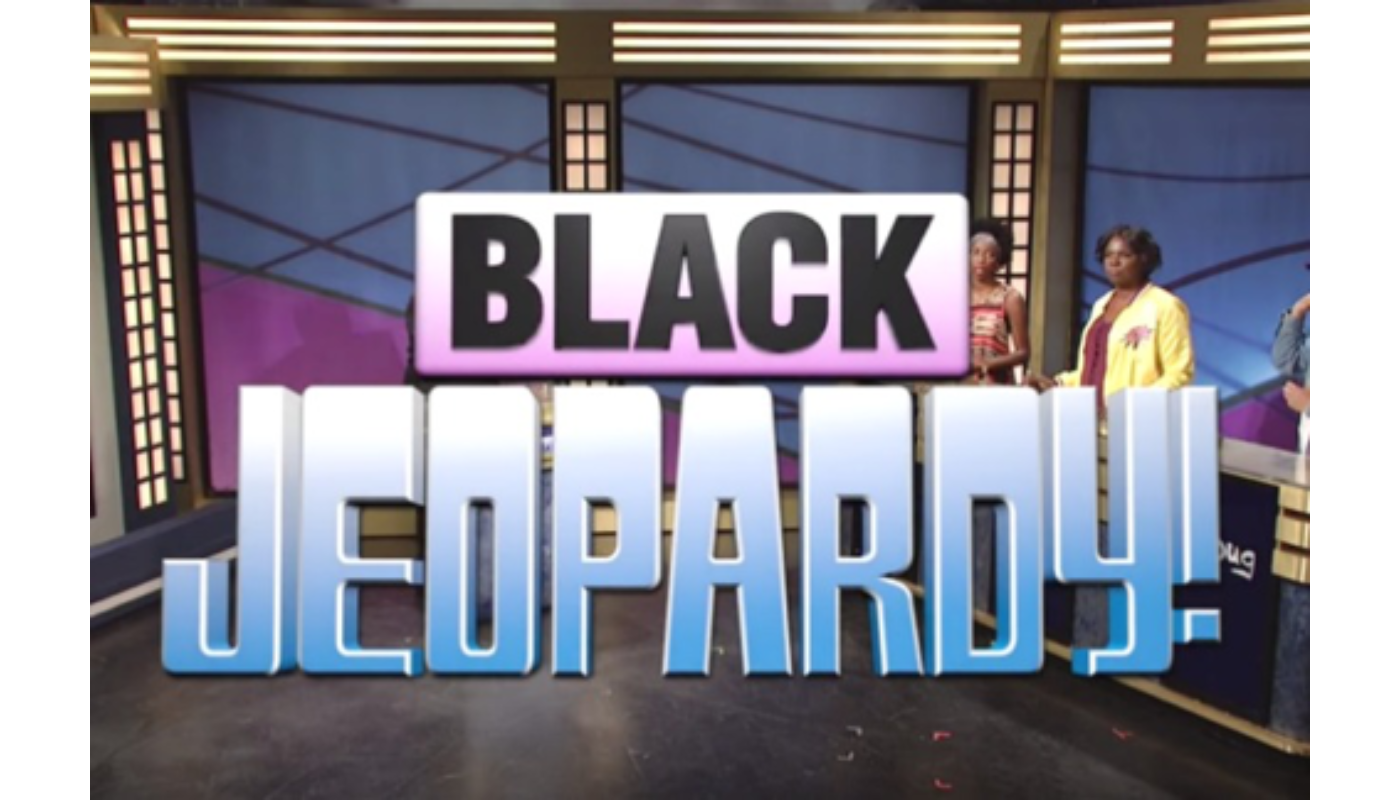 The American Ethnic Studies Department and the SBCC Ethnic Studies Club welcomes all students, faculty and staff for Black History Month 'Jeopardy' Wednesday, Feb. 26. More info here. . .
Each February, the nation acknowledges and celebrates the contributions that African Americans have made to American life and culture. Their struggles for freedom and equality deepen our understanding of our collective history.
According to the Library of Congress:
Black History Month had its origins in 1915 when historian and author Dr. Carter G. Woodson founded the Association for the Study of Negro Life and History. This organization is now known as the Association for the Study of African American Life and History ("ASALH").

Through this organization Dr. Woodson initiated the first Negro History Week in February 1926. Dr. Woodson selected the week in February that included the birthdays of Abraham Lincoln and Frederick Douglass, two key figures in the history of African Americans.

In 1975, President Ford issued a Message on the Observance of Black History Week urging all Americans to "recognize the important contribution made to our nation's life and culture by black citizens." In 1976 this commemoration of black history in the United States was expanded by ASALH to Black History Month, also known as African American History Month, and President Ford issued the first Message on the Observance of Black History Month that year. In subsequent years, Presidents Carter and Reagan continued to issue Messages honoring African American History Month.

In 1986 Congress passed Public Law 99-244 (PDF, 142KB) which designated February 1986 as "National Black (Afro-American) History Month." This law noted that February 1, 1986 would "mark the beginning of the sixtieth annual public and private salute to Black History." The law further called upon to President to issue a proclamation calling on the people of the United States to observe February 1986 as Black History Month with the appropriate ceremonies and activities. President Reagan issued Presidential Proclamation 5443 which proclaimed that "the foremost purpose of Black History Month is to make all Americans aware of this struggle for freedom and equal opportunity." This proclamation stated further that this month was a time "to celebrate the many achievements of African Americans in every field from science and the arts to politics and religion."
Additional information and resources:
Library of Congress African American History Month: https://blogs.loc.gov/aahm19/
Smithsonian National Museum of African American History & Culture: https://nmaahc.si.edu/
Black Past African American History: https://www.blackpast.org/african-american-history/