Entrance Requirements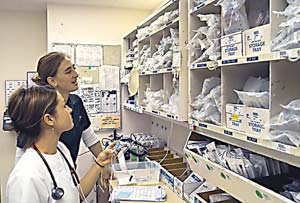 To be eligible to receive an Entrance Date and enter the nursing program, the applicant will be required to apply to the college and complete all of the program requirements.
One semester prior to entering, students will be required to:
Attend a Mandatory Group Orientation Meeting. Accepted students will be notified of the date and time of the session. If a student does not attend this Mandatory Group Orientation, they will be removed from the wait list and another student will be called to enter in their place.
Submit a completed physical examination on the form provided by the Health Technology Office by the deadline. If the form is not submitted by the deadline, the student may not enter the program.
Obtain a CPR card for professional rescuers. CPR certification must be kept current throughout the program. Contact the American Heart Association, Red Cross, or a local fire station for class schedules. If the student does not submit the card by the deadline, they will not enter the program.
Students are required to clear a criminal background check by the deadline. A student who fails to complete this process by the deadline will not enter the program. Should a clinical agency refuse to allow a student based on the outcome of either the background check or drug screen, the program is not responsible for arranging alternate placements.
5. There are some one-time materials fees that will be paid at time of registration for
applicable courses.
Advisory for Career Choice: Mental and Physical Qualifications for Nursing
There are specific qualifications, abilities, knowledge, and skills required for professional nursing practice. Typically, nursing employers specify these as "minimal essential standards and functions" for employment as a nurse. Although qualifications may vary among employers, the SBCC ADN Program wishes to inform prospective students of the general nature of such qualifications. The following list is provided to enable applicants and accepted students to informally assess their own capabilities for nursing prior to entering the program.
1. Work in a standing position and do frequent walking for twelve hours.
2. Lift and transfer adult and child patients up to six inches from a stooped position, and push or
pull the weight of an adult up to three feet.
3. Lift and transfer adult and child patients from a stooped to an upright position to accomplish bed
to-chair and chair-to-bed transfers.
4. Use hands, wrists, and arms to physically apply up to ten pounds of pressure in the
performance
of specific procedures (e.g., to control bleeding, perform CPR, etc.).
5. Respond and react immediately to verbal instructions and requests, auditory sounds from
monitoring equipment, and perform auditory auscultation of patients.
6. Be able to move freely and physically maneuver in small spaces.
7. Possess sufficient visual acuity to perform close and distant visual activities involving objects,
persons, and paperwork, as well as the ability to discriminate depth and color perception.
8. Read calibrated scales of one-hundredth increments in not more than a three-inch space.
9. Possess sufficient fine motor skills and eye-hand coordination to use small instruments and
equipment.
10. Discriminate between sharp and dull, hot and cold.
11. Perform mathematical calculations for preparation and administration of medications in a
timely manner.
12. Communicate effectively in the English language, both orally and in writing, using appropriate
grammar, spelling, vocabulary and word usage.
13. Comprehend verbal and written directions and make appropriate notations.
14. Access patient/client information electronically and document care provided.
15. Develop the ability to make appropriate and timely decisions under stressful situations.
16. Demonstrate sufficient endurance to complete a twelve hour clinical laboratory experience.
Note: Employers are required to provide reasonable accommodations for persons with disabilities. However, with accommodations, the employee must be able to perform "essential functions" of the position.
All applicants are advised that some employers have drug testing done prior to hire and on a periodic basis during employment.
Courses that can be taken while you are on the Wait List:
General Education Requirements-see a Health Technologies Cluster Counselor if you are not sure what you need to take.
Transfer Requirements for BSN-statistics, logic are often required, It is a good idea to talk to a Health Technologies Cluster Counselor to see what is required for the school you may want to transfer to.
SBCC Certified Nursing Assistant Program (CNA), 965-0581, ext. 2366.
SBCC AH 120–Medical Terminology course.
SBCC Math 103-Nursing and Allied Health Math
For High School Students: Enrollment in and completion of San Marcos Health Academy. This is required for advanced placement.
The Health Technologies Cluster Academic Counselors in Student Services can advise you on courses that will help you transfer to a four-year institution to pursue your advanced degree upon completion of the ADN.
Back to top